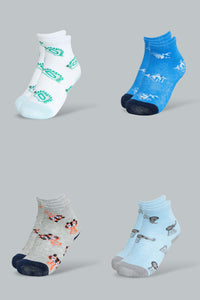 A pack of 4 cotton and nylon comfortable ankle-length socks.
Age Group/Gender: Infant Boys (3 to 24 Mths)
Colour: Assorted
Pattern: Animal Print
Set Includes: 4x Ankle Socks
Length: Ankle-Length
Care Instructions: Machine Wash Cold
Fabric: 74% Cotton 24% Nylon 2% Elastane
طقم من 4 أزواج من الجوارب بألوان مختلفة . مصنوعة من خامات ناعمة لراحة أكبر واحتكاك أقل.
القسم: الأولاد ( 3-24 شهر)
اللون:ألوان متختلفة
التصميم: طبعة حيوان
الطقم يشمل: 4 x جوارب
القصة: طول الكاحل
إرشادات العناية: غسيل آلي بالماء البارد

النسيج: 74% قطن 24% نايلون 2% إيلاستين