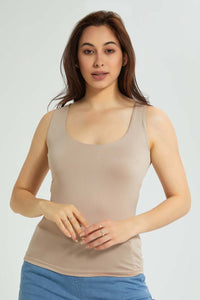 This sleeveless active shirt is perfect for your next workout session. This shirt keeps you feeling comfortable and can be matched with a pair of shorts or joggers for a complete and trendy workout look.


Age Group/Gender: Women's Clothing
Colour: Beige
Pattern: Placement Print
Neck: Crew Neck
Sleeve: Strappy
Care Instructions: Machine Wash Cold
Fabric: 95% Polyester 5% Spandex
إضافة جميلة ومريحة إلى ملابسك الرياضية، هذه البلوزة بحمالات تعد خيارا مثالي لمختلف الحصص الرياضيّة. تعتبر قطعة عمليّة يمكنك تنسيقها مع تشكيلة متنوّعة من الملابس.
القسم: ملابس نسائية
اللون: بيج

التصميم: مطبوع
الرقبة: دائرية
الأكمام: حمالات
إرشادات العناية: غسيل آلي بالماء بارد
النسيج: 95% بوليستر 5% سبانديكس