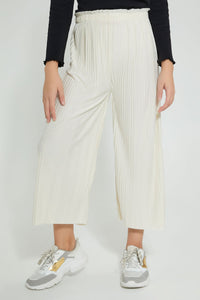 This

 beige pleated culotte 

with an elasticated waistband is comfortable and perfect for everyday wear. Match it with all types of tops for a complete and smart look.
Gender: Senior Girls (9 to 14 Yrs)
Colour: Beige
Pattern: Pleated
Fit: Culotte
Care Instructions: Machine Wash Cold
Fabric: 100% Polyester
هذا البنطلون الواسع يناسب جميع ملابس الكاجول لإبنتك لتشعر براحة طوال اليوم.هذا البنطلون مصمم بخصر مطاطي وواسع لقياس مطابق، يطابق مع جميع البلايز لإطلالة كاملة مريحة.
القسم: البنات الكبار (9-14 سنوات)
اللون: بيج

التصميم: كسرات
القصة: واسعة
إرشادات العناية: غسيل آلى بالماء بارد
النسيج: 100% بوليستر