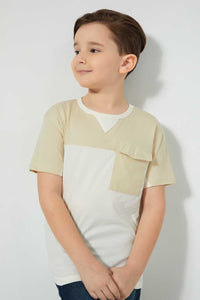 Your boy will surely look handsome and cool in this beige t-shirt. Match this comfortable t-shirt with a pair of jeans and sneakers for a complete casual look. 
Gender: Boys (2 to 8 Yrs)
Colour: Beige
Pattern: Cut And Sewn
Neck: Round Neck
Sleeve: Short Sleeve
Care Instructions: Machine Wash Cold
Fabric: 100% Cotton
إضافة مميزة إلى تشكيلة ملابس الكاجوال لإبنكم بهذا التيشيرت الرائع، مصمم بياقة دائرية وطابع عصري وأكمام قصيرة، كما أنّه مصنوع من نسيج القطن. نصقوا التيشيرت مع جينز أو شورت و سنيكرز لإطلالة كاملة مريحة طوال اليوم.
القسم: الأولاد الصغار (2-8 سنة)
اللون: بيج

التصميم: قص وخياطة
الرقبة: دائرية
الأكمام: قصيرة
إرشادات العناية: غسيل آلي بالماء بارد
النسيج: 100% قطن