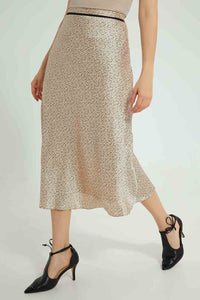 Match this stylish beige skirt with a blouse and heels for a trendy and chic look for all occasions.


Age Group/Gender: Women's Clothing
Colour: Beige
Pattern: All-Over Print
Fit: Regular Fit
Length: Mid Length
Care Instructions: Machine Wash Cold

Fabric: 100% Polyester Satin
عززي من أناقتك لجميع المناسبات، هذا تنورة ناعمة ومريحة تتميز بتصميم فريد. التنورة بطول متوسط مما يجعلها خياراً مريحاً.
القسم: ملابس نسائية
اللون: بيج

التصميم: مطبوع
القصة: عادية
الطول: متوسطة الطول
إرشادات العناية: غسيل آلى بالماء البارد
النسيج: 100% ستان بوليستر