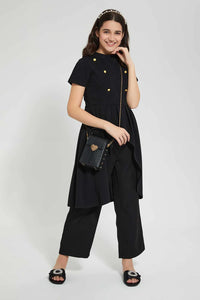 Pick this comfortable black t-shirt for your pretty girl. It matches all different types of bottoms and a pair of mules for a complete look.


Age Group/Gender: Senior Girls (9 to 14 Yrs)
Colour: Black
Pattern: Embellished
Neck: Crew Neck
Sleeve: Short Sleeves
Care Instructions: Machine Wash Cold
Fabric: 95% Polyester 5% Elastane
اختاروا لإبنتكم هذا التيشيرت الرائع والمريح وسهل الإرتداء بأكمام قصيرة وبرقبة دائرية. نسقوا التشيشرت مع جميع أنواع البنطلونات وسنيكرز لإطلالة كاملة .
القسم: البنات الكبار (14-9 سنة)
اللون: أسود

التصميم: مزين
الرقبة: دائرية
الأكمام: أكمام قصيرة
إرشادات العناية: غسيل آلى بالماء البارد
النسيج: 95% بوليستر 5% إيلاستين