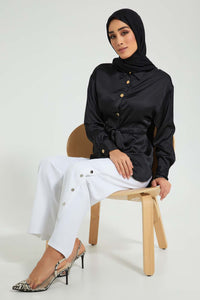 A stylish pick that matches all types of bottoms for everyday wear. It is chic and fashionable with its beautiful pleated pattern and belted waist.
Age Group/Gender: Women's Clothing
Colour: Black
Pattern: Plain
Collar: Tipping Collar
Sleeve: Long Sleeve
Care Instructions: Machine Wash Cold
Fabric: 100% Polyester Satin
عززي من أناقتك لجميع المناسبات، هذه البلوزة ناعمة ومريحة مصنوعة من خامة عالية الجودة. تتميز بطبع عصري وتصميم فريد بياقة ذو حواف وحزام وأكمام طويلة. نسقي البلوزة مع جميع البنطلونات و حذاء لإطلالة أنيقة.
القسم: ملابس نسائية
اللون: أسود

التصميم: سادة
الياقة: ذو حواف
الأكمام: أكمام طويلة
إرشادات العناية: غسيل آلى بالماء بارد
النسيج: 100% بوليستر ستان