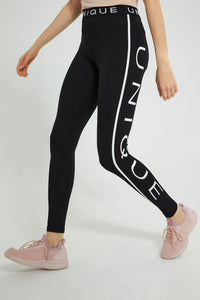 A side print legging with an elasticated waistband that is comfortable and perfect for everyday wear. Match it with a t-shirt and a sneaker for a complete casual look.
Age Group/Gender: Women's Clothing
Colour: Black
Pattern: Placement Print
Fit: Skinny Fit
Care Instructions: Machine Wash Cold
Fabric: 95% Cotton 5% 

Elastane
اعتمدي هذا الليغنغز الأنيق لتتباهي بإطلالة جذابة. هذا الليغنغز من نسيج البوليستر والنايلون الناعم والمريح ليمنحكِ الراحة المثالية طوال اليوم. يطابق مع بلوزة وسنيكرز لإطلالة كاجول كاملة.
القسم: ملابس نسائية
اللون: أسود

التصميم: بطبعة
القصة: سكيني فت
إرشادات العناية: غسيل آلي بالماء بارد
النسيج: 95% قطن 5% إيلاستين