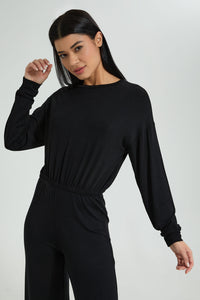 Complete your wardrobe with this soft and comfortable

 black sweatshirt

.

 

Match it with all different types of bottoms for a trendy look or have a look at the below matching bottom.
Gender: Women's Clothing
Colour: Black
Pattern: Plain
Neck: Round Neck
Sleeve: Long Sleeve
Care Instructions: Machine Wash Cold
Fabric: 95% Viscose 5% Elastane
أحصلى على هذا السويتشيرت الرائع والمريح. نصقي السويتشيرت مع جميع أنواع البنطلونات لتكتمل لبسة كاجول. مصنوعة من خامة مريحة بأكملم طويلة، لإرتداء سهل ومريح طوال اليوم.
القسم: ملابس نسائية
اللون: أسود

التصميم: سادة
الياقة: رقبة دائرية
الأكمام: أكمام طويلة
إرشادات العناية: غسيل آلي بالماء بارد
النسيج: 95% فيسكوز 5% إيلاستين