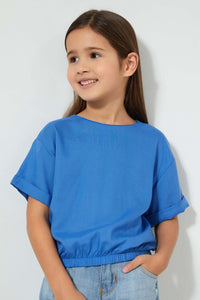 Your little girl will look beautiful in this blue blouse. The top has a back button that looks trendy and matches all types of bottoms for everyday wear.
Age Group/Gender: Girls (2 to 8 Yrs)

Colour: Blue
Pattern: Gathered
Neck: Round Neck
Sleeve: Short Sleeve
Care Instructions: Machine Wash Cold
Fabric: Polyester Viscose
ستبدو طفلتكم غاية في الجاذبيّة باعتماد هذه البلوزة الأنيقة، فهي تتميز بأزرار بالخلف و أكمام قصيرة. كما أنها من أجود الخامات المنتقاة بعناية حتى تسمح لها بالتحرك بكل أريحيّة.
القسم: البنات الصغار(2-8 سنوات)
اللون: أزرق

التصميم: مكرمشة
الياقة: دائرية
الأكمام: قصيرة
إرشادات العناية: غسيل آلي بالماء البارد
 النسيج:  بوليستر فسكوزي