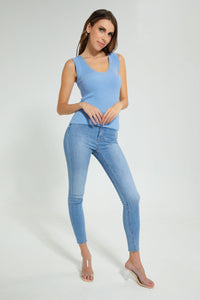 Complete your outfit with this soft and comfortable

 sleeveless textured blue

 

top

.

 

Match it with all different types of bottoms for a simple and stylish look.
Gender: Women's Clothing
Colour: Blue
Pattern: Textured
Neck/Collar: Scoop Neck
Sleeve: Sleeveless
Care Instructions: Machine Wash Cold
Fabric: 83% Viscose 17% Polyester
أكملي لبستك مع هذه البلوزة الزرقاء الناعمة والمريحة بلا أكمام. تطابق مع جميع أنواع البنطلونات لإطلالة بسيطة وأنيقة.
القسم: ملابس نسائية
اللون: أزرق

التصميم: بارز الملمس
الياقة: رقبة واسعة
الأكمام: بدون أكمام
إرشادات العناية: غسيل آلى بماء بارد
النسيج: 83% فيسكوز 17% بوليستر