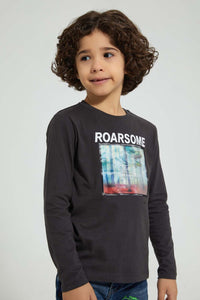 Add this trendy and cool t-shirt to your boy's closet. 

Match it with a pair of jeans and sneakers for a casual look.
Age Group/Gender: Boys (2 to 8 Yrs)
Colour: Charcoal
Pattern: Dinosaur Print
Neck: Round Neck
Sleeve: Long Sleeve
Care Instructions: Machine Wash Cold
Fabric: 100% Cotton
أضيفوا لمسة جميلة إلى مجموعة ملابس ابنكم بهذا التيشيرت، يسهل تنسيقه مع جينز وسنيكرز لإطلالة عصرية.
القسم: الأولاد (2-8 سنة)
اللون: رمادي داكن

التصميم: طبعة ديناصور 
الرقبة: دائرية
الأكمام: طويلة
إرشادات العناية: غسيل آلى بماء بارد
النسيج: 100% قطن