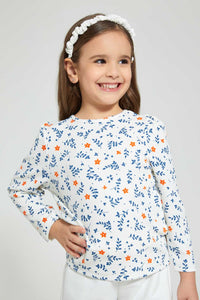 Pick this cute and comfortable cream leaf print t-shirt for your little girl.

 It matches all different types of bottoms and a sneaker for a complete look.
Gender: Girls (2 to 8 Yrs)
Colour: Cream
Pattern: Leaf Print
Neck/Collar: Round Neck
Sleeve: Long Sleeve
Care Instructions: Machine Wash Cold
Fabric: 96% Polyester 4% Elastane
اختياري لصغيرتك هذا التيشيرت المريح وسهلة الإرتداء طويلة الأكمام برقبة دائرية. تطابق جميع أنواع البنطلونات وسنيكرز لتكتمل لبسة .
القسم: البنات الصغار (2-8 سنة)
اللون: كريمي

التصميم: طبعة أوراق
الياقة: دائرية
الأكمام: طويلة
إرشادات العناية: غسيل آلى بماء بارد
النسيج: 97% بوليستر 3% إيلاستين