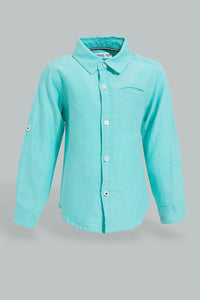 Present your kids with a casual and astonishing look with this mint shirt. Pair it with different kinds of pants and shoes and they will be ready for their next big occasion.


Age Group/Gender: Infant Boys (3 to 24 Mths)

Colour: Mint

Pattern: Plain

Collar: Buttoned Down

Sleeve: Long Sleeve

Care Instructions: Machine Wash Cold

Fabric: 100% Cotton
أظهروا أولادكم بمظهرغير اعتيادي وأنيق عن طريق اعتماد قميص هذا القميص باللون النعناعي. حيث يمكنكم تنسيقه مع أنواع متعددة من البلاطين والأحذية والاستعداد للخروج للمناسبة القادمة.
الفئة العمرية/الجنس: الأولاد الرضع (3-24 شهر)
اللون: نعناعي
التصميم: سادة
الياقة: ياقة بأزرار
الأكمام: طويلة
إرشادات العناية: غسيل آلي بماء بارد
النسيج: 100% قطن