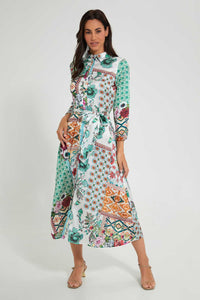 Add a stylish look to your apparel collection with this gorgeous pick for all occasions, a satin multicolour dress.
Age Group/Gender: Women's Clothing
Colour: Multicoluor  
Pattern: All-Over Print
Collar: Tipping Collar
Sleeve: Long Sleeve
Length: Midi Length
Care Instructions: Machine Wash Cold
Fabric: 100% Polyester 
تميزي بهذا الفستان الأنيق بأزرار وخصر بحزام بألوان متنوعة . بتصميم رائع يجعله خيارا مناسباً لجميع المناسبات. مصنوع من نسيج ناعم ومريح. نسقيه مع الكعب أو بالرينا لإطلالة متكاملة.
القسم: ملابس نسائية
اللون: ألوان متعددة 

التصميم: مطبوع
الرقبة: ذو حواف
الأكمام: طويلة
الطول: متوسط الطول
إرشادات العناية: غسيل آلي بالماء البارد
النسيج: 100% بوليستر