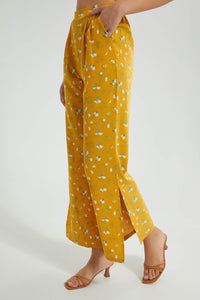 Classy and chic, this floral trouser is made of

 polyester fabric with an elasticated waist at the back that provides a customised fit. Match these trousers with a blouse and a heel for a trendy and stylish look.
Gender: Women's Clothing
Colour: Mustard
Pattern: Floral Print
Fit: Wide Leg
Care Instructions: Machine Wash Cold
Fabric: 97% Polyester 3% Elastane
اعتمدي هذا البنطلون الأنيق لتتباهي بإطلالة جذابة. هذا البنطلون بنسيج البوليستر الناعم المريح مزين بخصر مطاطي من الخلف ليمنحكِ الراحة المثالية طوال اليوم. نصقي هذه البنطلون الأنيق مع بلوزة و حذاء عالي لإطلالة أنيقة.
القسم: ملابس نسائية
اللون: أصفر داكن

التصميم: بطبعة أزهار
القصة: واسعة
إرشادات العناية: غسيل آلى بماء بارد
النسيج: 97% بوليستر 3% إيلاستين