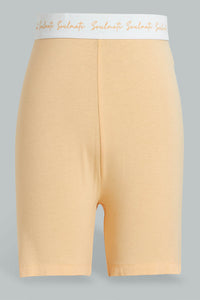 Experience maximum comfort by wearing

 

these peach shorts. These shorts have an elasticated waistband that will keep you in style for your everyday casual wear.
Gender: Women's Clothing
Colour: Peach
Pattern: Placement Print
Fit: Slim Fit
Care Instructions: Machine Wash Cold
Fabric: 95% Viscose 5% Elastane
هذا الشورت يناسب جميع ملابسك الكاجول لتشعري براحة طوال اليوم. هذا الشورت من نسيج الفيسكوز. مصمم بخصر مطاطي لقياس مطابق، نصقي هذا الشورت مع بلوزة أوسويتشيرت لتتمتعي بالراحة القصوى طوال اليوم.
الجنس: ملابس نسائية
اللون: مشمشي

التصميم: مطبوع
القصة: سليم فت
إرشادات العناية: غسيل آلي بالماء البارد
النسيج: 95% فيسكوز 5% إيلاستين