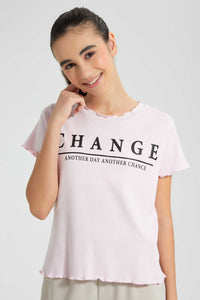 Complete your girl's wardrobe of casual wear by getting this yellow t-shirt with its unique print. Match it with all types of bottoms and a sneaker for a complete casual look. 
Age Group/Gender: Senior Girls (9 to 14 Yrs)
Colour: Pink
Pattern: Change Print
Neck: Round Neck
Sleeve: Short Sleeve
Care Instructions: Machine Wash Cold
Fabric: 95% Cotton 5% Elastane
إضافة مميزة إلى تشكيلة ملابس الكاجوال لإبنتكم بهذا التيشيرت الرائع، مصمم برقبة دائرية، كما أنّه مصنوع من نسيج القطن. نسقوا التيشيرت مع جينز وسنيكرز لإطلالة كاملة مريحة طوال اليوم.
القسم: البنات الكبار (9-14 سنة)
اللون: وردي

التصميم: مطبوع
الرقبة: دائرية
الأكمام: قصيرة
إرشادات العناية: غسيل آلي بالماء بارد
النسيج: 95% قطن 5% إيلاستين