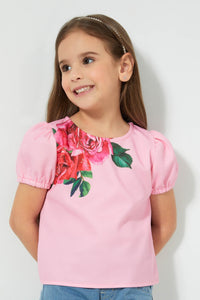 Your little girl will look absolutely adorable in this pink blouse. The top has back button closure and floral details that look trendy and matches all types of bottoms for everyday wear.
Gender: Girls (2 to 8 Yrs)
Colour: Pink
Pattern: Floral Print
Neck: Round Neck
Sleeve: Short Sleeve
Care Instructions: Machine Wash Cold
Fabric: 96% Polyester 4% Elastane
ستبدو فتاتكم غاية في الجاذبيّة باعتماد هذه البلوزة الأنيقة، تعرض بطبعة أزهار جذّابة إضافة إلى أزرار إغلاق من الخلف. كما تم صنعها من أجود الخامات بعناية حتى تسمح لها بالتحرك بكل أريحية. نصقوا هذه البلوزة مع بنطلون و سنيكرز لإطلالة كاملة أنيقة.
القسم: البنات الصغار(2-8 سنوات)
اللون: وردي

التصميم: بطبعة أزهار
الياقة: رقبة دائرية
الأكمام: قصيرة
إرشادات العناية: غسيل آلي بالماء بارد
النسيج: 96% بوليستر 4% إيلاستين