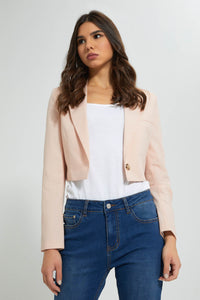 Add this chic pink cropped jacket to your collection of casual and work outfits. Match this jacket with a solid top for a classy and complete look.
Gender: Women's Clothing
Colour: Pink
Pattern: Plain
Neck/Collar: V-Neck
Sleeve: Long Sleeve
Care Instructions: Machine Wash Cold
Fabric: 65% Polyester 35% Cotton
تألقي بإطلالة مميزة باعتماد هذا الجاكيت القصير الرائع، يتميز بنمط عصري وتصميم أنيق، ومصنوع من خامات عالية الجودة لارتداء مريح طوال اليوم، ويمكن تنسيقه مع ملابس متنوعة.
القسم: ملابس نسائية
اللون: وردي

التصميم: سادة
V الياقة: رقبة
الأكمام: طويلة
إرشادات العناية: غسيل آلي بالماء بارد
النسيج: 65% بوليستر 35% قطن