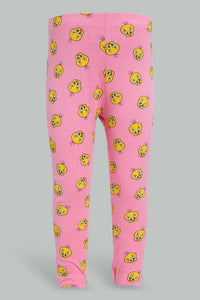 Match this comfortable pink Tweety printed elasticated waistband legging with a casual top and a sneaker for everyday wear.

Age Group/Gender: Infant Girls (3 to 24 Mths)
Colour: Pink
Pattern: Tweety Print
Fit: Skinny Fit
Length: Long Length
Care Instructions: Machine Wash Cold
Fabric: 95% Cotton 5% Spandex
نسقوا هذا الليغينغز المريح باللون الوردي بخصر مطاطي لطفلتكم. مصنوع من نسيج القطن سيمنحها الراحة طوال اليوم.
القسم: البنات الرضع (3-24 شهر)
اللون: أبيض
التصميم: مطبوع
القصة: سكيني
إرشادات العناية: غسيل آلي بالماء البارد
النسيج: 95% قطن 5% إيلاستين