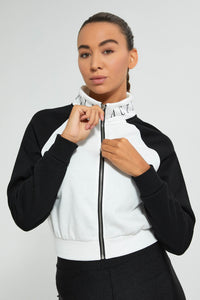 Style your outfit with this comfortable active sweatshirt. Match it with black pants and a white sneaker for a complete look.

Age Group/Gender: Women's Clothing
Colour: White/Black
Pattern: Placement Print
Neck: High-Neck
Sleeve: Long Sleeve
Care Instructions: Machine Wash Cold
احصلى على هذا السويتشيرت الرياضي باللون الأسود والأبيض المريح عند ممارستك للرياضة. ارتديها مع بنطلون باللون الأسود وحذاء باللون الأبيض لتكتمل اللبسة.
القسم: ملابس نسائية
اللون: أبيض/أسود

التصميم: مطبوع
الياقة: عالية
الأكمام: أكمام طويلة
إرشادات العناية: غسيل آلي بالماء البارد