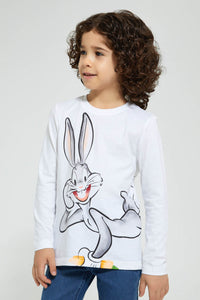 If there's one item in your kids€™ wardrobe you can always count on, it's this white bugs bunny t-shirt with a crew neck. The long sleeves and comfortable design will keep them warm and cozy during winter.


Age Group/Gender: Boys (2 to 8 Yrs)
Colour: White
Pattern: Placement Print
Neck: Crew Neck
Sleeve: Long Sleeve
Care Instructions: Machine Wash Cold
Fabric: 100% Cotton
تعتبر هذه البلوزة بياقة دائرية وأكمام طويلة قطعة أساسية يجب أن تتواجد في خزانة أولادكم. تأتي بتصميم مريح لتضمن لهم الدفء والراحة خلال الشتاء.
الفئة العمرية/الجنس: الأولاد الرضع (3-24 شهر)
اللون: أبيض

التصميم: مطبوع
الياقة: ياقة دائرية
الأكمام: أكمام طويلة
إرشادات العناية: غسيل آلي بماء بارد
القماش: 100% قطن