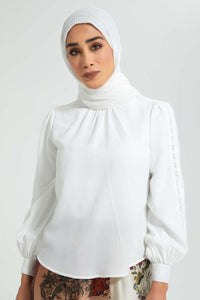 A stylish pick that matches all types of bottoms for everyday wear. It is chic and fashionable with its beautiful lace pattern on the sleeves.
Age Group/Gender: Women's Clothing
Colour: White
Pattern: Lace
Neck: Round Neck
Sleeve: Long Sleeve
Care Instructions: Machine Wash Cold
Fabric: 100% Polyester
عززي من أناقتك لجميع المناسبات، هذه البلوزة ناعمة ومريحة مصنوعة من خامة عالية الجودة. تتميز بطبع عصري وتصميم فريد برقبة دائرية وأكمام طويلة. نسقي البلوزة مع جميع البنطلونات و حذاء لإطلالة أنيقة.
القسم: ملابس نسائية
اللون: أبيض

التصميم: دانتيل
الرقبة: دائرية
الأكمام: أكمام طويلة
إرشادات العناية: غسيل آلى بالماء بارد
النسيج: 100% بوليستر