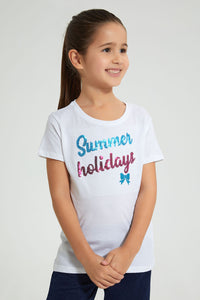 A stylish pick that matches all types of bottoms for everyday wear. It is soft and comfortable with a beautiful sequin print.
Age Group/Gender: Girls (2 to 8 Yrs)
Colour: White
Pattern: Sequin 
Neck: Round Neck
Sleeve: Short Sleeve
Care Instructions: Machine Wash Cold
Fabric: 100% Cotton Jersey
عززي إطلالة صغيرتك باقتناء هذا التيشيرت الرائعة. مصممة بنمط عصري أنيق وتفاصيل راقية تضيف إلى جاذبيته، ومصنوعة من خامات عالية الجودة لتمنحها شعورًا مثاليًا بالراحة طوال اليوم.
القسم: البنات الصغار (2-8 سنة)
اللون: أبيض

التصميم: مزين
الياقة: ياقة دائرية
الأكمام: قصيرة
إرشادات العناية: غسيل آلي بالماء بارد
النسيج: 100% قطن جيرسي