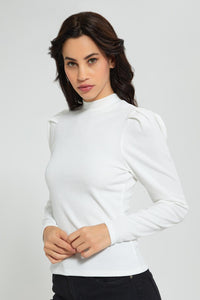 Style your winter look with this comfortable white turtle neck ribbed top. It matches all different types of bottoms for a complete look.
Gender: Women's Clothing
Colour: White
Pattern: Plain
Neck/Collar: Turtle-Neck
Sleeve: Long Sleeve
Care Instructions: Machine Wash Cold
Fabric: 95% Polyester 5% Elastane
أحصلى على هذه البلوزة مريحة بياقة عالية وأكمام طويلة لموسم الشتاء. تطابق جميع أنواع البنطلونات لتكتمل لبسة الشتاء. مصنوعة من خامة البوليستر لإرتداء سهل ومريح طوال اليوم.
القسم: ملابس نسائية
اللون: أبيض

التصميم: سادة
الرقبة: برقبة عالية
الأكمام: أكمام طويلة
إرشادات العناية: غسيل آلى بماء بارد
النسيج: 95% بوليستر 5% إيلاستين