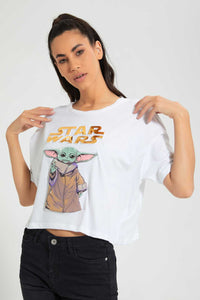 Complete your wardrobe with this soft and comfortable cropped t-shirt. Match it with all different types of bottoms for a trendy look.


Age Group/Gender: Women's Clothing

Colour: White

Pattern: Yoda Print

Neck: Crew Neck
Sleeve: Short Sleeve

Care Instructions: Machine Wash Cold
Fabric: 100% Cotton
أحصلى على هذه البلوزة الجميلة. تطابق جميع أنواع البنطلونات لتكتمل لبسـتك. مصنوعة من خامة مريحة بأكمام قصيرة، لإرتداء سهل ومريح طوال اليوم.
القسم: ملابس نسائية
اللون: أبيض

التصميم: طبعة يودا
الرقبة: دائرية
الأكمام: أكمام قصيرة
إرشادات العناية: غسيل آلي بالماء البارد
النسيج: 100% قطن