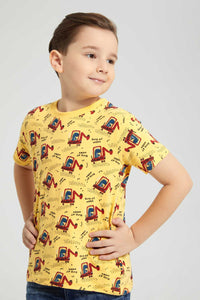 Your boy will surely look handsome and cool in this yellow t-shirt. Match this comfortable t-shirt with a pair of jeans and sneakers for a complete casual look.


Gender: Boys (2 to 8 Yrs)
Colour: Yellow 
Pattern: Dinosaur Print
Neck: Round Neck
Sleeve: Short Sleeve
Care Instructions: Machine Wash Cold
Fabric: 100% Cotton
يعد هذا التيشيرت المطبوع إضافة مميزة لتشكيلة الملابس الكاجوال لإبنكم، مصمم بياقة دائرية وطابع عصري وأكمام قصيرة، كما أنّه مصنوع من نسيج قطني عالي الجودة. نسقوه مع جينز أو شورت و سنيكرز لإطلالة كاملة مريحة طوال اليوم.
القسم: الأولاد الصغار (2-8 سنوات)
اللون: أصفر

التصميم: ديناصور
الرقبة: دائرية
الأكمام: قصيرة
إرشادات العناية: غسيل آلي بالماء البارد
النسيج: 100% قطن