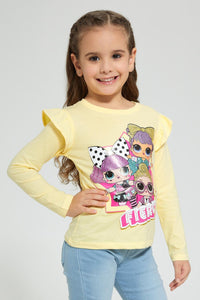 The eye-catching print of LOL Dolls will certainly make this frill sleeve t-shirt your little girl's favourite. Match it with all different types of bottoms for a complete and comfortable look.
Gender: Girls (2 to 8 Yrs)
Colour: Yellow
Pattern: Lol Dolls Print
Neck/Collar: Round Neck
Sleeve: Long Sleeve
Care Instructions: Machine Wash Cold
Fabric: 100% Cotton Jersey
عززي إطلالة صغيرك باقتناء هذه التيشيرت لول دول الرائع. مصممة بنمط عصري أنيق وتفاصيل راقية تضيف إلى جاذبيته، ومصنوعة من خامات عالية الجودة لتمنحه شعورًا مثاليًا بالراحة طوال اليوم.
القسم: البنات الصغار (2-8 سنة)
اللون: أصفر

التصميم: طبعة لول دول
الياقة: ياقة دائرية
الأكمام: طويلة
إرشادات العناية: غسيل آلى بماء بارد
النسيج: 100% قطن جيرسي