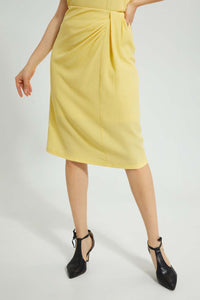 A stylish pick for all occasions, this yellow mid-rise pencil skirt with a side wrap design is the perfect addition to your wardrobe

. Match it with a top and a sandal for a complete fashionable look.
Age Group/Gender: Women's Clothing
Colour: Yellow
Pattern: Plain
Cut: Pencil
Length: Knee Length
Care Instructions: Machine Wash Cold
Fabric: 98% Polyester 2% Elastane
عززي من أناقتك لجميع المناسبات، تنورة بخصرعالي وطوله طول الركبة بتصميم فريد. التنورة تتميز باللون الأصفر مصنوعة من نسيج ناعم. نصقي التنورة مع بلوزة وحذاء لإطلالة كاملة أنيقة.
القسم: ملابس نسائية
اللون: أصفر

التصميم: سادة
القصة: ضيقة
الطول: طول الركبة
إرشادات العناية: غسيل آلي بالماء بارد
النسيج: 98% بوليستر 2% إيلاستين