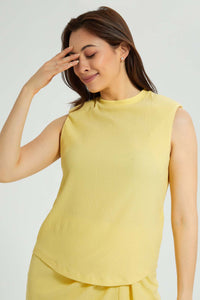 Get this stylish and trendy yellow top, it features a padded shoulder and round neck. Match it will all types of bottoms and a heel for a complete chic look.
Age Group/Gender: Women's Clothing
Colour: Yellow
Pattern: Plain
Neck: Round Neck
Sleeve: Sleeveless
Care Instructions: Machine Wash Cold
Fabric: 98% Polyester 2% Elastane
عززي من أناقتك لجميع المناسبات، هذه البلوزة مريحة مصنوعة من خامة البوليستر بكتف مبطن. تتميز تصميم فريد تطابق جميع أنواع البنطلونات والتنانير لإطلالة كاملة.
القسم: ملابس نسائية
اللون: أصفر

التصميم: سادة
الرقبة: دائرية
الأكمام: بدون أكمام
إرشادات العناية: غسيل آلى بالماء بارد
النسيج: 98% بوليستر 2% إيلاستين